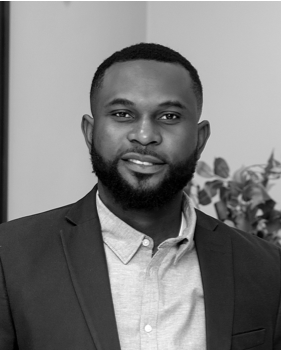 Joseph Okunorobo
Strategy & Digital Transformation
Joseph is a certified Project Management Professional with over seven (7) years hands-on experience managing technology products and services across a wide range of sectors such as Public Finance Management, International Development, Public Sector, Health, and Education. He has led and directed several successful large projects both in public and private sectors. He is business and system Analyst with track record of boosting revenue by leveraging on his experience in technology.
Joseph is a very focused Business Change Manager with highly developed analytical skills with the ability to think problems through to solutions. He has managed and assisted in the needs assessment, business analysis, infrastructure design and implementation monitoring several projects. He's focused on helping organizations achieve required Business Outcomes with the use of IT tools and solutions, using business analysis tools and methodologies to interact with stakeholders and data to produce complete outputs.
His areas of expertise include Product Management, Project Management, Business Analysis, Strategic Planning & Management, Process Reengineering, Public Finance Management, Business Support Services, and Advisory Services.
He holds a Bachelor's of Technology degree in Computer Science from the Federal University of Technology, Minna, Nigeria. He is a member of the Project Management Institute, USA and a certified ITIL (IT service management) Professional.